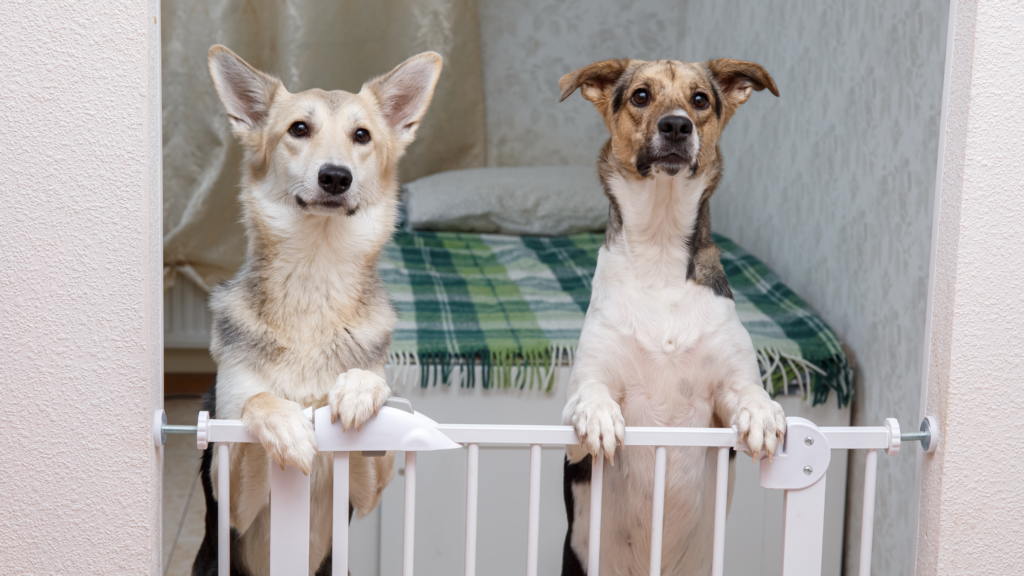 As a dog lover in Texas, we understand the importance of creating a safe and comfortable living space for your furry friend. You choose the perfect manufactured home community in Texas, now you want it to keep that new house condition. Dogs can be a joy to have around, but they can also be tough on your home. That's why we've put together some tips for dog proofing your manufactured home in Texas. 
Choose Durable Flooring
Texas is known for its hot summers and outdoor lifestyle, which means dogs often spend a lot of time running and playing outside. However, when they come inside, they can cause damage to your flooring. This damage can be especially challenging in a manufactured home, which often features a smaller space with limited flooring options.
To dog proof your manufactured home's flooring, it's important to choose a material that is durable, scratch-resistant, and easy to clean. Tile, laminate, and vinyl are all great options for pet owners.
Tile flooring is a popular choice because it is incredibly durable and resistant to scratches, dents, and stains. It's also easy to clean, making it ideal for pet owners. However, it can be slippery, so you may want to choose a textured tile or add a rug to provide some traction.
Laminate flooring is another great option for dog owners in Texas. It is designed to mimic the look of hardwood flooring, but is much more durable and scratch-resistant. It is also easy to clean, making it a practical choice for homes with pets.
Vinyl flooring is a versatile and budget-friendly option that is perfect for dog owners. It is scratch-resistant, easy to clean, and comes in a variety of styles and colors. Plus, it is soft underfoot, which can be more comfortable for your dog to walk on than harder flooring materials.
No matter what type of flooring you choose for your manufactured home in Texas, it's important to keep it well-maintained. Regular sweeping, mopping, and vacuuming will help keep your floors clean and free of debris that can scratch the surface. By choosing a durable flooring material and maintaining it properly, you can create a pet-friendly living space that both you and your furry friend will love.
Protect Your Walls
Dogs are active and energetic creatures, and sometimes they can get a little too excited and start jumping or scratching at walls. This can cause unsightly damage and wear and tear to your manufactured home's walls. To protect your walls from your furry friend, there are a few things you can do.
One option is to install wainscoting or chair rails. These decorative elements not only add a touch of style to your home but also serve as a barrier to protect your walls from your dog's jumping or scratching. Chair rails are particularly effective because they are positioned at a dog's jumping height, which can discourage them from jumping up against the walls.
Another option is to choose a high-quality paint that is easy to wipe down. This will help to protect your walls from any dirt or marks that your dog may leave behind. Look for paint that is scrubbable and durable, so it can withstand frequent cleaning.
You can also consider adding a protective film or cover to your walls. These are specially designed to resist scratches and scuffs, and they are easy to apply and remove.
It's important to remember that no matter what protective measures you take, it's still a good idea to train your dog not to jump or scratch at the walls. Consistent training can go a long way in preventing damage to your manufactured home's walls.
Secure Your Cabinets and Trash Cans
 Dogs are notorious for getting into cabinets and trash cans. Keep your cabinets and trash cans securely fastened with child locks to keep your furry friend out.
Create a Cozy Space
Dogs love to have their own space to relax and unwind. Set up a cozy dog bed in a quiet corner of your home, away from high traffic areas. You can also create a designated space for your dog's toys and treats.
Keep Your Dog Safe
Texas can have hot summers, and dogs can be prone to overheating. Make sure your home has plenty of ventilation and consider installing a dog door for easy outdoor access. If you have a fenced-in yard, make sure your fence is in good repair and free of any potential escape routes.
Protect your Manufactured Home in Texas
At our manufactured home communities in Texas, we know that pets are family. That's why we strive to provide comfortable and welcoming living spaces for both you and your pets. By following these tips for dog proofing your manufactured home, you can enjoy a happy and harmonious life with your furry friend in the Lone Star State.
Live Lone Star is dedicated to developing manufactured home communities throughout Texas. Visit our website to learn more about a manufactured home community near you.